January – June 2022 Reporting
Period Ends The end of the January – June 2022 reporting period is rapidly approaching. Timely data submission is important to resolve any issues before the system close on 30 July 2022.
Important note: Adding or changing outlets requires authorisation from the Data Exchange Helpdesk. It is a busy time for the Helpdesk team so please ensure you allow up to 10 business days if you require their assistance. Organisation Administrators can complete other updates such as creating and managing Data Exchange access. Go to the Data Exchange Add and edit a user task card for more help.
Organisations using Bulk File Upload
If you are submitting data via the Bulk Upload function, it is important to check your files have uploaded successfully to ensure you submit complete and accurate data sets.
You can check by going to the "View uploaded files" page in the Data Exchange Web Portal. This page displays the list of all the files uploaded by your organisation. Check the status row of the table for any files that have the status: "Failed". Expand the row to download the error file for this submission.

Click the name of any file to see more information about that file such as upload progress, and a breakdown of total, successful and failed records by entity type.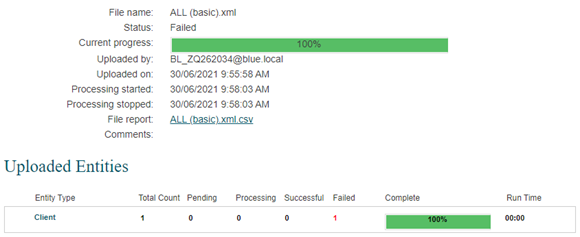 For more information on this process, please refer to Section 5 of the Bulk File Upload Technical Specifications document in the training section of the Data Exchange website.